About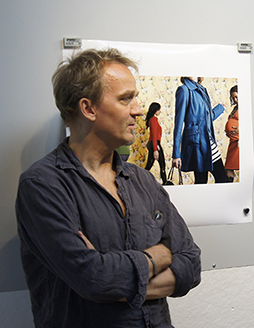 Award winning Swedish photographer Kristofer Dan Bergman lives in New York City.
He was raised in a show-business family in Stockholm. His father owned a theater, while his mother was an actress. Six-year-old Kristofer landed his first big role in 'Summer Equation', a Swedish made-for-television art film. The "attention" that ensued lead him to 'quit' the movie industry and focus on sports like football, skiing and ice hockey.
At 16 years old, Kristofer was given an old Carl Zeiss camera by his father. Not only did the camera shoot in a square—as opposed to oblong—format, it also lacked a through-the-lens focus. Kristofer was nevertheless thrilled. He had no idea what was to come.
Since then, he has shot for numerous international newspapers and magazines, from Corriere della Sera to El País to Elle. Over time, his editorial photography eventually segued into advertising work for the likes of Clarins, Tag Heuer, Panasonic, AT&T and Pfizer.
He has also had numerous solo and group exhibitions, including 'S_PACE' (conceptual), 'Yearbook' (conceptual), Unbound (Abstract), Chapters (Retrospective), The Karen People of Burma (Documentary) and Kenya's Garissa Hospital (Documentary) to name a few. He has also been part of a few Museum exhibits (Vaxio and Ljungby in Sweden as well as Queens Museum of Art). His work is represented in the ICP permanent collection.
In 2014 Kristofer won the Platinum award for his series 'Away' in the prestigious Graphis Photography Annual and landed the cover for the ensuing coffee table book.  He also got the Silver award for the 'S_PACE' series with the same organization. In 2013 Kristofer was a winner in Communication Art Photography Annual (CA53), Creative Quarterly, AX3 as well as APA National Awards with his new series 'Away'  and 'S_PACE' which are the 5th and 6th installation in his 'First Degree' annual project.
Photography has allowed Kristofer to meet and photograph people he would most likely never have encountered otherwise. Bill and Hillary Clinton, Lauren Bacall, Muhammad Ali, Joan Baez and Desmond Tutu have all sat on the other side of Kristofer's lens.
Whether it be a commercial shoot, a documentary story or a fine art project in the studio, Kristofer's passion focuses on people. His personal work includes nudes, conceptual and abstract still-life photography—some of it undertaken at his studio in TriBeCa. The former is a short bike ride from Kristofer's apartment on the Lower East Side.
When he's not shooting, he's busy practicing yoga and meditation or browsing a museum show.